With so many eSIM providers to choose from, it can be hard to know which one to pick.
But if you're looking for an affordable and reliable way to stay connected when traveling, look no further than AloSIM.
AloSIM is an excellent option for people who want to enjoy local coverage in countries all around the world, without worrying about the hassle of changing SIM cards.
In this AloSIM review, we'll tell you more about the company, its plans, and its destinations. We'll also share our honest opinion on AloSIM based on our experience.
Without further ado, let's get started!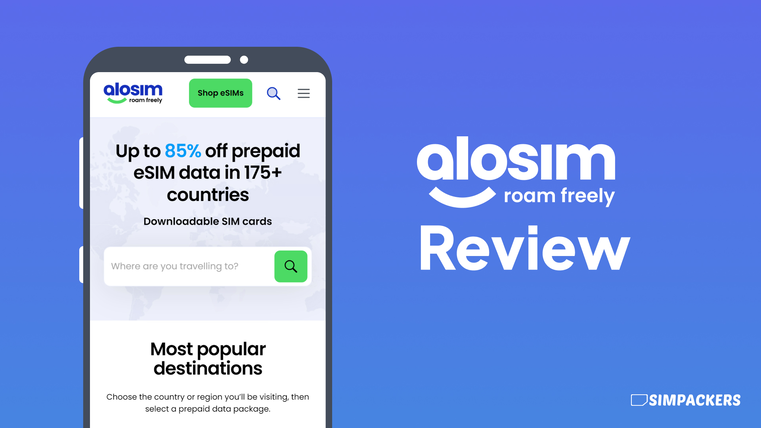 What Is AloSIM?
is an online eSIM store that offers data plans in 130+ countries. You can use AloSIM to purchase local, or regional eSIMs. You'll find a wide range of short-term plans.
AloSIM was founded in 2022 and has quickly become one of the most popular eSIM providers, thanks to its affordable plans.
How Does AloSIM Work?
AloSIM is very easy to use. Follow the steps below to purchase an eSIM.
Pick a destination and preferred plan.
Create an account on .
Complete the purchase.
Click on eSIM plan to find the QR code required to install the eSIM.
Set up an APN (see the installation guide for more details)
Enable roaming.
AloSIM shares detailed steps to help you install your eSIM plan. It can be helpful if it's your first time using an eSIM.
Note that you may need to set up an APN depending on the plan chosen. But, don't worry - AloSIM explains everything with clear guidelines.
Who Is AloSIM For?
AloSIM is perfect for digital nomads, travelers, and anyone who wants to stay connected wherever they go.
AloSIM plans are affordable and easy to use - anyone can get an eSIM in just a few minutes!
AloSIM Destinations
offers eSIMs in 130+ countries. You can purchase a local plan if you're staying in one country or a regional plan if you're traveling through multiple countries.
If you want to check the price quickly, write your destination at the top of the page. You'll see the current pricing instantly.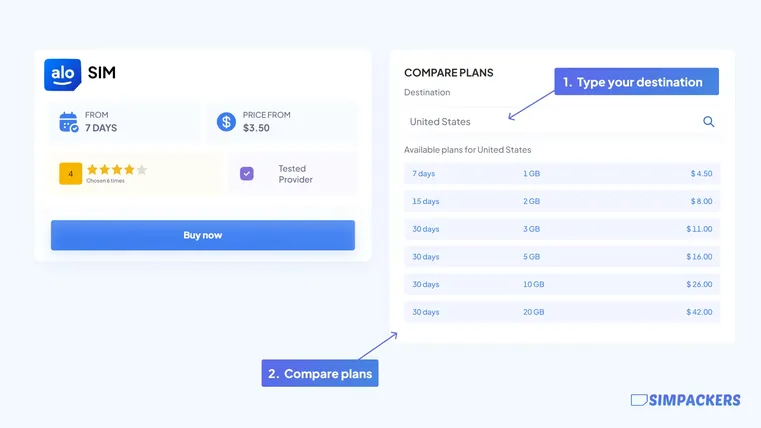 Let's have a look at AloSIM eSIM plans.
AloSIM Plans
AloSIM offers a wide range of short-term eSIM plans.
You'll find:
Local eSIMs
Regional eSIMs
Head to and find your destination to see the plans available.
If you plan to travel to multiple destinations, you could pick a regional eSIM plan instead.
AloSIM Asia Five Pack ESIM
AloSIM Asia Five Pack offers coverage in 5 countries (Hong Kong, Malaysia, South Korea, Taiwan, and Thailand).
You'll find plans between 7 and 30 days.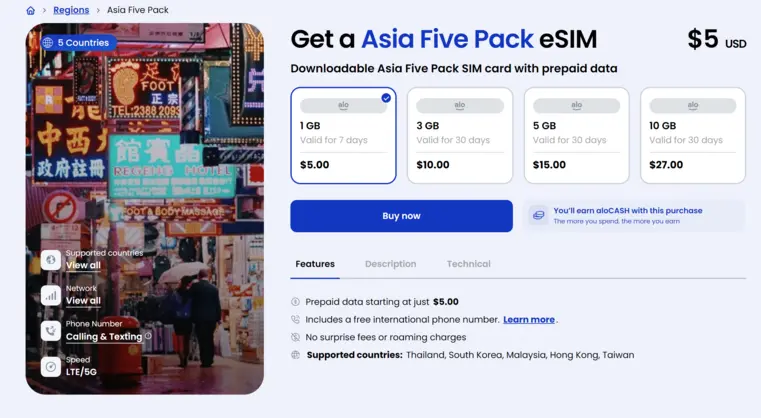 AloSIM Australia And New Zealand ESIM
AloSIM Australia and NZ offers coverage in (you guessed it) Australia and New Zealand. You'll find plans between 7 and 30 days.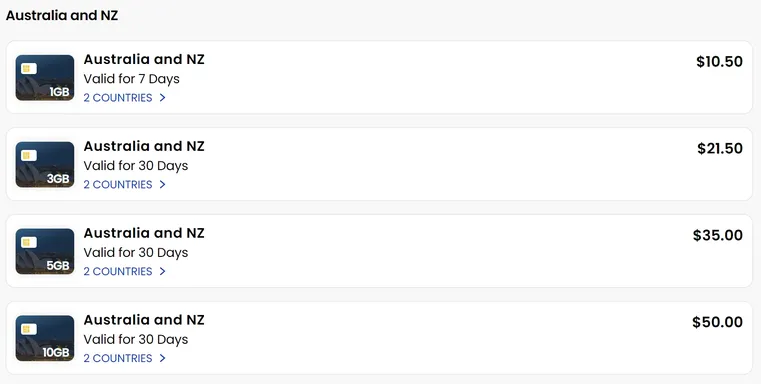 AloSIM Caribbean ESIM
AloSIM Caribbean works in 11 countries. You'll find eSIM plans between 7 days and 30 days.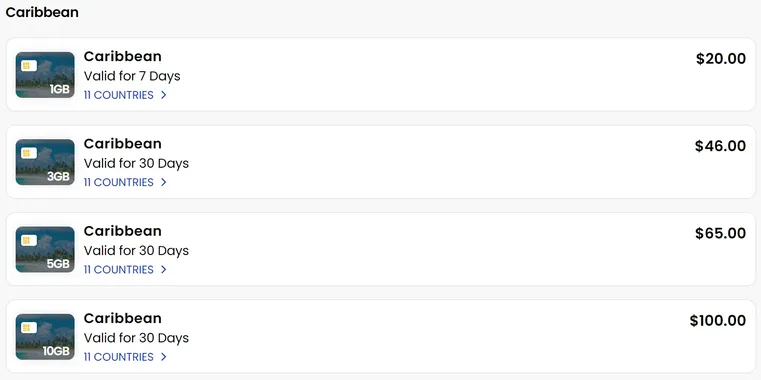 AloSIM Europe ESIM
AloSIM recently launched its European eSIM plan. In fact, AloSIM offers several specific regions of Europe, but now the store offers a great European plan with coverage in 32 countries.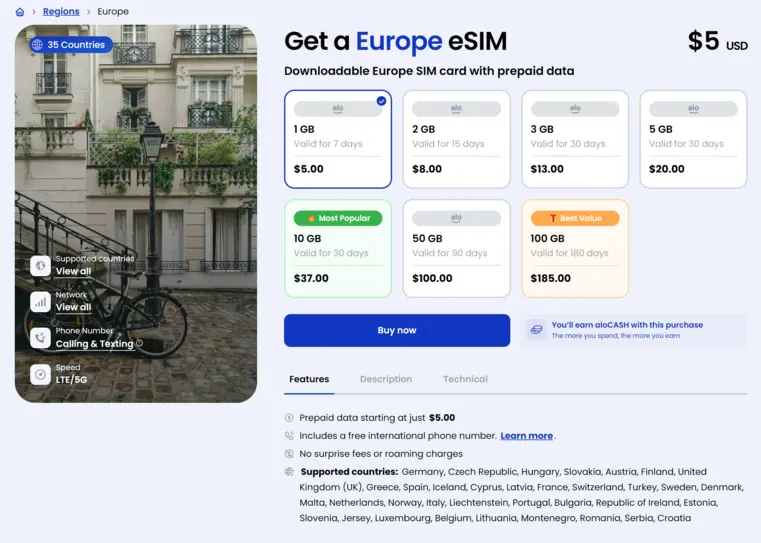 AloSIM Eastern Europe ESIM
The plan for Eastern Europe works in 11 countries.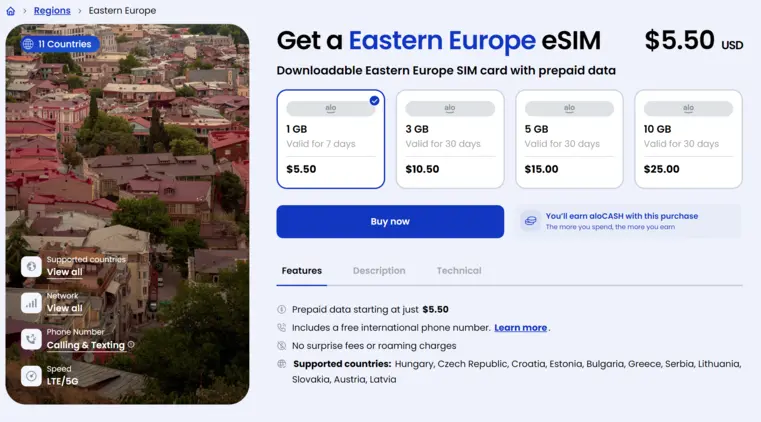 AloSIM Mediterranean ESIM
The second European plan is AloSIM Mediterranean, which works in 6 countries.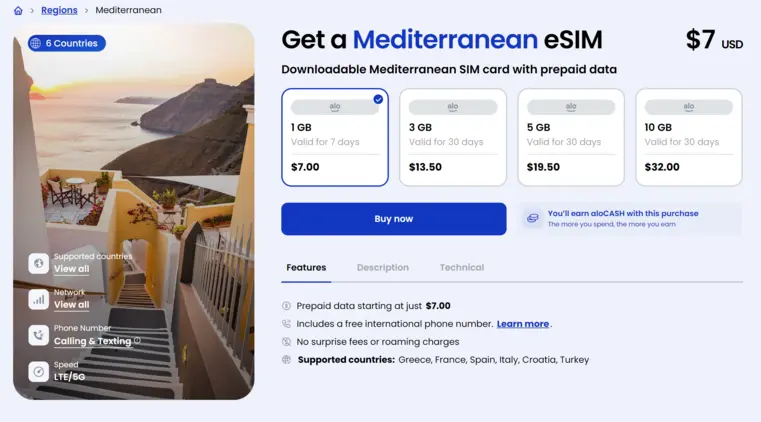 AloSIM UK And Ireland ESIM
AloSIM has a special eSIM plan for the United Kingdom and Ireland. You'll find eSIM plans between 7 and 30 days.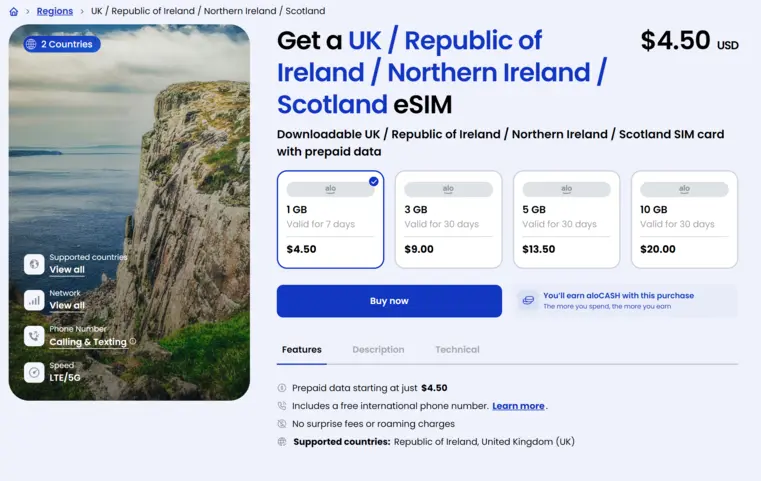 AloSIM Scandinavia ESIM
AloSIM Scandinavia works in 3 countries (Denmark, Sweden, and Norway).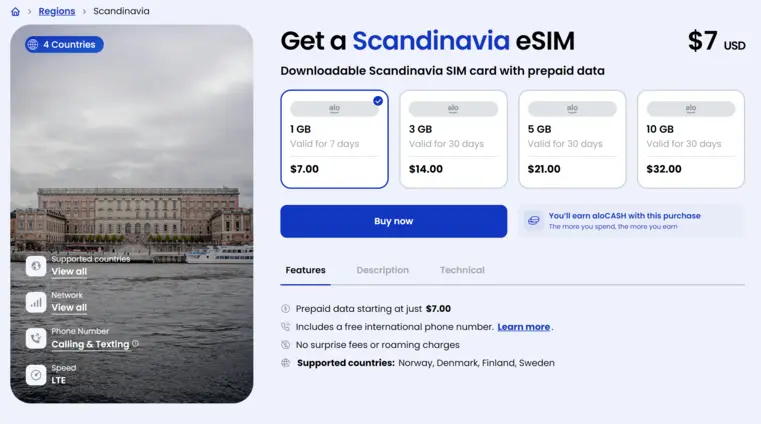 AloSIM Western Europe ESIM
Finally, the final European plan is AloSIM Western Europe, which works in 4 countries (France, Italy, Portugal, and Spain).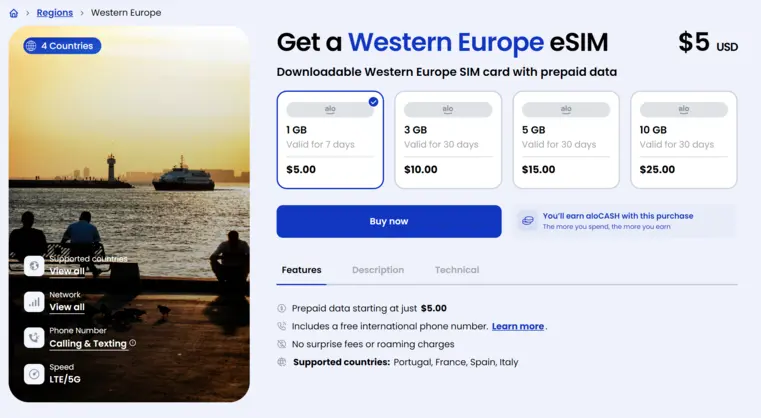 AloSIM North America ESIM
AloSIM North America offers coverage in Canada, Mexico, and the United States. You can choose between 7 and 30 days.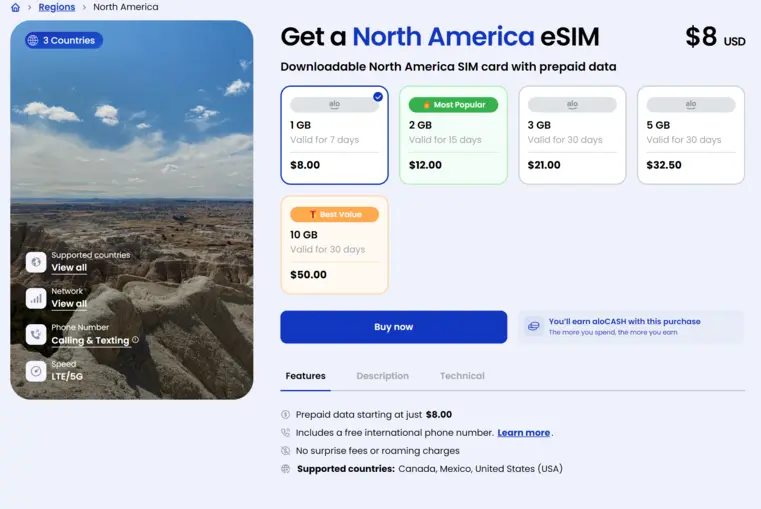 AloSIM South America ESIM
AloSIM South America offers coverage in 9 countries. You can pick between 7 and 30 days.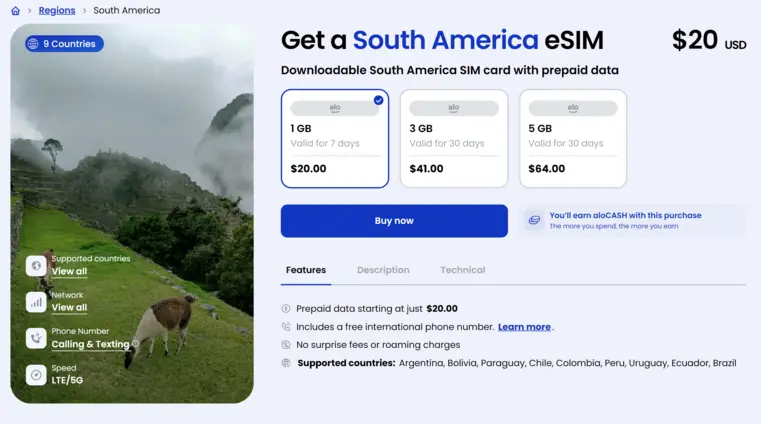 Experience With AloSIM
We tested AloSIM in February 2023 during our travels in Europe.
Overall, the experience was positive.
In this section, we'll share our experience with AloSIM eSIM - from the purchase to the customer service.
AloSIM Website Experience
The AloSIM website is well-designed and easy to navigate. We can find everything we need in just a few clicks.
AloSIM offers a great user experience, and you can easily compare the available plans for a specific country/region.
Buying An ESIM On AloSIM
Once you pick a plan, you'll need to get through a few pages to finalize the purchase.
You'll have a few options for payment:
Credit card
Vouchers/credit
Once the transaction is completed, you can install your plan right away. You'll get clear steps and guidelines to help you install your eSIM.
Connection
We got an excellent Internet speed as soon as the eSIM was installed.
Overall, it was a great experience.
Customer Service And Support
As part of our reviews and tests, we contacted the support to get help and got a reply within 30 seconds.
This is impressive, and it shows that AloSIM values its customers.
AloSIM Honest Opinion
We've used in Europe and it was a great experience.
AloSIM offers a great selection of plans, with excellent customer service and reasonable prices in multiple destinations.
We happily recommend AloSIM, especially if you're looking for an eSIM that's easy to use and affordable.
We love AloSIM's website and plans and think this eSIM provider seems very promising for the future.
AloSIM Promo Code
Want to try for yourself? Get 5% off with our referral code: SIMPACKERS.
If AloSIM Is Not Working
If you're having issues with AloSIM, we suggest you contact the customer service team. You should get an answer extremely fast.
However, here are some things you could look up for if you want a quick fix:
In your device settings, your eSIM should be active under Mobile Networks
Verify that mobile data is On for this eSIM
Verify that data roaming is On
Add a new APN if needed
The newly created and saved APN is selected
You are manually connected to the supported network provider in your carrier settings
AloSIM Alternatives
Not sure about AloSIM? Compare and explore the following AloSIM alternatives.
AloSIM Review: Summary
is one of the best eSIM providers these days.
The AloSIM eSIM plans are perfect for travelers, and the website is easy to use.
Overall, AloSIM provides excellent Internet connection and excellent customer service.
AloSIM Review Key Takeaways
AloSIM's website is easy to use
Fast and efficient customer service
Wide selection of local, and regional plans at affordable rates